I recently published an article entitled:
"How to Hit Your Target"
on this website.  You can read the article HERE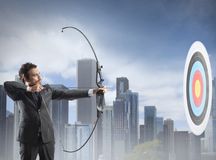 In short, the article discusses why businesses, when setting future goals / targets, should look at FAR more than just some distant, hoped for achievements.
I ask that you reflect upon the facts that, in my respectful opinion:
Your actual target is not some distant outcome or a blurry vision of tomorrow.
Your actual target is how – and where – you're aiming right now – and this is invariably affected by the totality of what's happening around you today.
If you have the chance, please let me know your thoughts about the article.

http://www.childproofingexperts.com/find-a-professional/peter-kerin/
Credit for the above archery image goes to photographer 'Max Lim'.